WHAT WE DO
Since 1992, Bevcorp has been a full-service provider of packaging equipment and parts for the beverage industry. We provide rotary filling equipment, MicroBlend blending systems, closure equipment, rotary rinsers, container handling parts, pre-owned and remanufactured equipment. We service customers in the carbonated soft drink, beer, water, juice, energy drink and non-carbonated beverage industries. We manufacture all equipment in the USA.
CONTACT US TODAY
Thank you for your interest in Bevcorp. We would love to assist you in any questions or packaging needs you may have. Please feel free to contact us!
EMAIL US
440.954.3500
QUALITY PARTS
We maintain an extensive inventory of new and rebuilt filler replacement parts for Bevcorp and Crown fillers. A number of replacement and repair parts are also available with design improvements and upgraded materials, such as stainless steel and hard chrome plate. We produce the highest quality new and remanufactured parts at competitive prices. Specialty items can be quickly produced with our extensive in-house machining capabilities. We have a substantial inventory of pre-owned fillers that can be used for parts.
You can avoid hours of lost production time during an unexpected crash, by tapping into Bevcorp's store of quality, used, structural components (castings, brackets, etc.). Some parts seldom need to be replaced and could take weeks to manufacture, while a used, non-wearing equivalent part is often available immediately at a fraction of the cost of new.
25 Years Serving You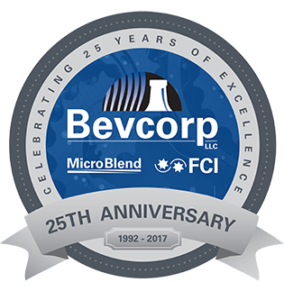 LEARN MORE